Gentle Monster (GM) is a South Korean eyewear and lifestyle brand known earlier for its bold black sunglasses and soon after, for its avant-garde designs and experiential retail stores. The company was founded in 2011 by Hankook Kim, and it quickly gained a reputation for its unique designs and bold approach to retail.
One of the reasons why Gentle Monster has become so popular is its focus on creating immersive retail experiences. Each of its stores is designed to be a work of art in its own right, with elaborate installations, interactive displays, and futuristic technology.
Gentle Monster's success can be attributed to its combination of cutting-edge design, experiential retail, and high-profile collaborations, which have helped to establish the brand as a leader in the fashion and lifestyle space. Today, we look at some of Gentle Monster's past collaborations and understand how they have helped to raise the brand's profile and attract a successful global following.
Fendi and GM
You may have seen these around when they were first released in 2019. A collaboration between Fendi and GM, called Gentle Fendi, has these 2 words on their innovative and futuristic sunglasses. Because of its unique (and cool) silhouette, it simply catches all the attention around.
What GM does well is its marketing campaign for all their products and collaborations. With Gentle Fendi, the goal was to 'blend art and fashion together'. One can see that its products goes really well with the timeless Fendi 'F' prints. Even with the sunglasses alone, the piece is a statement on its own.
Another interesting fact, as part of the marketing campaign, GM opened a Gentle Fendi Cafe in South Korea which allows customers to experience both brands in physical space.
Ambush and GM
The Gentle Monster x Ambush collaboration is a collection of sunglasses and eyewear accessories that was released in 2019. Ambush is a Tokyo-based fashion brand founded by Yoon Ahn, who is also the jewelry designer for Dior Homme.
The collaboration features a range of unique designs that blend Gentle Monster's avant-garde aesthetic with Ambush's bold and colorful style. The collection includes sunglasses with oversized frames, gradient lenses, and geometric shapes, as well as eyewear chains, cases, and pouches.
One of the standout pieces from the collection is the "Zip Tie" sunglasses, which feature a metal zip tie wrapped around the temples of the frame. Another collaboration of theirs featured a smaller frame with interestingly, a carabiner. Honestly, who would have thought of such an innovative design!
Moncler and GM
In line with GM's innovative experiential retail and cutting-edge designs, we see the birth of The Moncler Genius Collection in 2022. The collaboration was a platform for GM to showcase their 'outlook on how our society perceives emotions in a digitally focused world'.
Media art was also part of their public presentation of the collaboration, which made it feel as though an out of the world fashion show.
Huawei and GM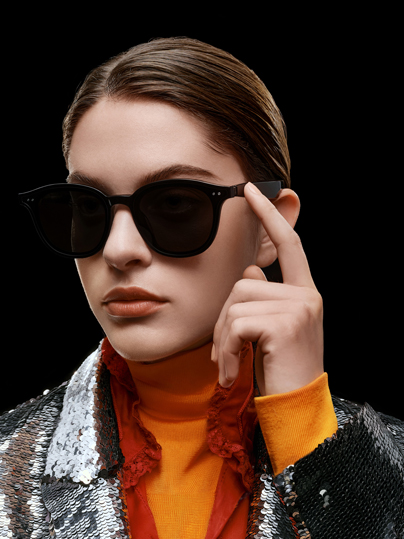 It has been quite hot recently, with smart sunglasses and spectacles made available by various brands. This does not stop Gentle Monster, but rather challenges the brand to explore perhaps the next generation of smart wearable technologies through its lenses (literally!). Its collaboration with Huawei, HUAWEI X GENTLE MONSTER Eyewear II, announced in 2020, is a fusion of smart technology and eyewear.
With this, we see that innovation is not just in the technology sector. And with values such as forward-thinking and bold in alignment, the collaboration reflects just that. The glasses in this collection provides high-definition stereo sound, with a smart interaction function as a personal assistant.
Alexander Wang and GM
The Gentle Monster x Alexander Wang collaboration is a collection of sunglasses and eyewear accessories that was released in 2019. Alexander Wang is a New York-based fashion designer known for his edgy, urban aesthetic.
Their first collaboration, CEO, features a sleek metal frame and bold lenses as an 'interpretation of corporate femininity'. It aimed to be an expression of confidence and power, all in just frame.
Their 2nd collaboration in 2019, 'M.PRI$$', is also one to remember for a long time. It is a blend of GM's iconic model with a curved cat-eye twist. As if it is not already bold, the sunglasses has a fluid gold metals snake detail that curves along the front of the lenses.
Summary
It is no surprise that Gentle Monster is a brand sought after by many. With its impressive history of collaborations, the brand is evidently a fore runner in innovation, creative design and experiential marketing. The brand's retail stores are designed to be immersive and visually stunning, offering customers an experience that goes beyond just buying a product. This approach has attracted a lot of attention from consumers and industry experts alike, making Gentle Monster an interesting brand to be associated with.
These elements have helped to create a strong brand identity that resonates with consumers and makes Gentle Monster a standout brand in the fashion and lifestyle space.
Post Image: Gentle Monster