In a tropical country, you may find yourself craving for a cold beverage, and what is better to have than a insulated water bottle which keeps your drink cold and ice still intact after hours of carrying it around. This can be said if you are in a cold country – a hot beverage and its heat kept retained in a bottle for long time.
What does it mean to be insulated?
Already popular in the market, insulated water bottles does the job. Also known as thermos flasks or vacuum flasks, work by using a double-walled container that creates a vacuum between the inner and outer walls. This vacuum acts as an insulating layer, preventing heat from being transferred between the inside and outside of the bottle.
Since there is no air in the vacuum, there is no heat transfer through conduction or convection. This means that the contents of the bottle can stay hot or cold for an extended period without being affected by the surrounding temperature.
Below are 5 water bottles that not only does is job, but also looks good.
Hydro Flask
Hydro Flask is a popular brand that specialises in insulated water bottles, tumblers, and hydration accessories (i.e interchangeable caps).
The company was founded in 2009 in Bend, Oregon, and is known for their durability, innovative features, and vibrant colours.
Additionally, the brand is committed to sustainability, using recyclable materials and supporting environmental causes through their Parks for All program.
What do others say about their experience with Hydro Flask?
'The hook at the top makes it easy to carry, and it really does keep your water cold! I left mine in the hot car and when I came out, the outside of the bottle was hot, but my water still had ice in it!' – Jessica on Amazon
'The actual flask is very durable and keeps cold drinks cold and hot drink hot.' – Lilia on Amazon
Frank Green
An Australian brand, Frank Green specialises in ceramic reusable water bottles which can keep both the cold and hot in for hours.
All their bottles are ceramic lined for better tasting, triple-walled & vacuum insulated for temperature control and splash & spill resistant. Similar to Hydro Flask, Frank Green's bottle caps are interchangeable.
Frank Green's design of their bottles are award winning, and have patented their push-button lid. So grab yours now here!
Lululemon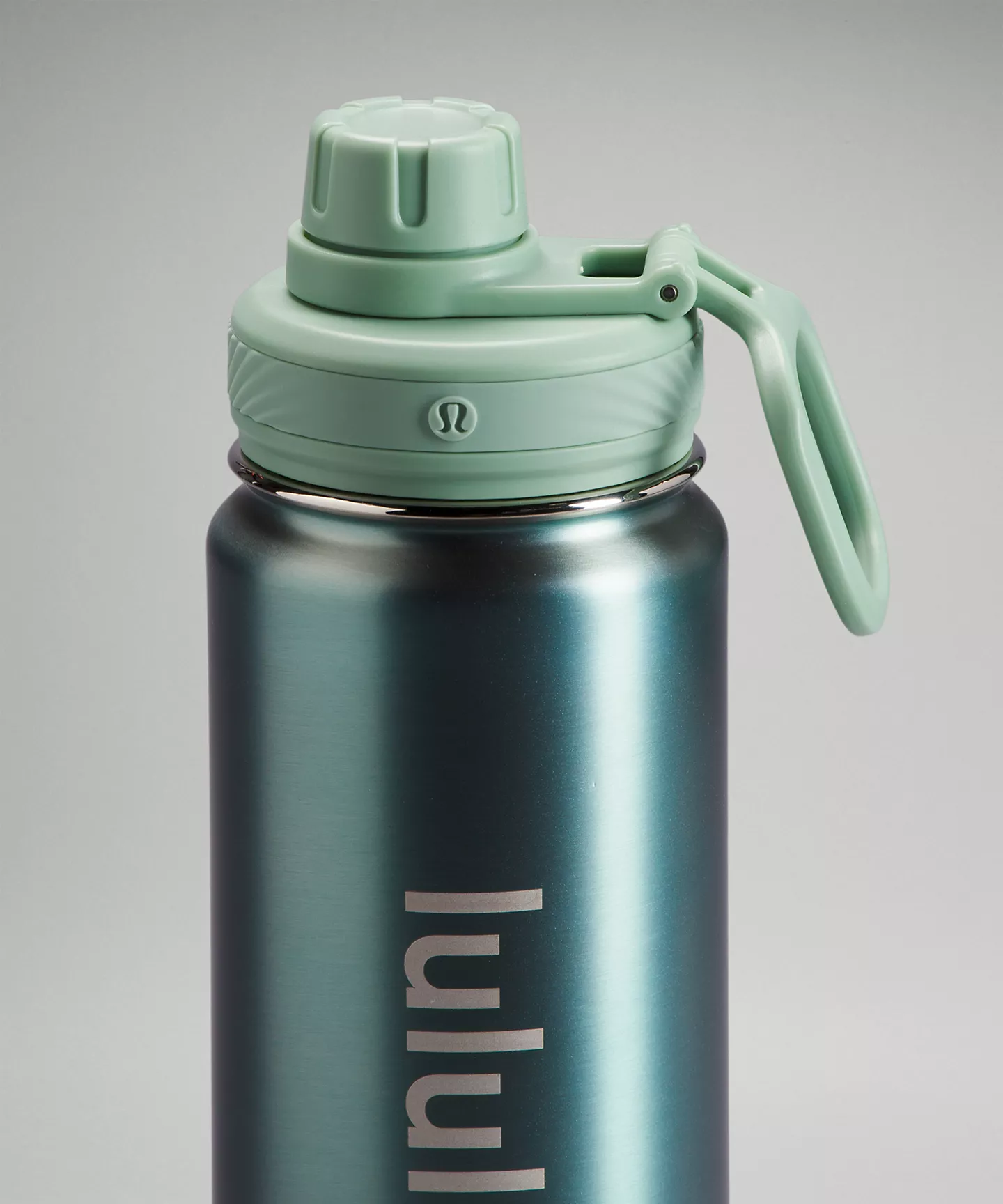 One of the most popular water bottles from Lululemon is their Back to Life Sport Bottle. It is made of durable stainless steel and features a double-walled design to keep drinks cold for up to 24 hours or hot for up to 12 hours. The bottle is available in 17oz and 25oz sizes and comes with a leak-proof screw-on lid and is powder coated for sure grip.
Though this cap is not interchangeable, the item comes in many colours, with Lululemon's occasional new colour drops.
Klean Kanteen
Klean Kanteen is a brand of reusable water bottles that was founded in 2004 by the Cresswell family in Chico, California. The company was created in response to the growing concern about the environmental impact of single-use plastic water bottles.
With their growing product line from a reusable stainless steel water bottle to the addition of new material bottles such as insulated stainless steel and bamboo, Klean Kanteen has a proud offering of options for sustainable and eco-friendly products.
Klean Kanteen has become a leading brand in the reusable water bottle market, known for its high-quality products, commitment to sustainability, and dedication to making a positive impact on the planet.
What do others say about their experience with Klean Kanteen?
'They keep our coffees hot the longest, and they're so easy to wash and clean.' – Alyaa on Klean Kanteen
Kinto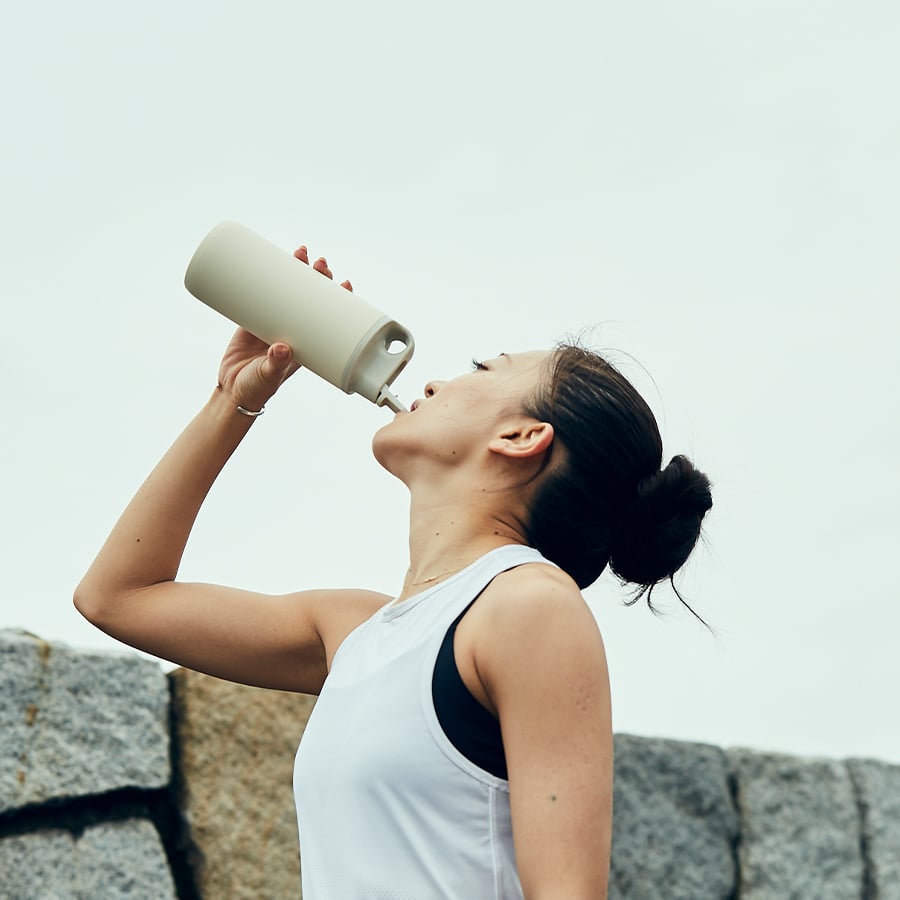 Kinto is a Japanese brand that produces a range of lifestyle products, including water bottles, coffee and tea accessories, and tableware.
Kinto's water bottle line includes a variety of materials, such as stainless steel, glass, and plastic. Many of the bottles feature sleek and minimalist designs, with a focus on simplicity and usability.
One of Kinto's water bottles is the Active Tumbler, which is made of stainless steel and features a vacuum-sealed double-wall design to keep drinks hot or cold for hours. The tumbler also has a leak-proof lid, has a slim design that fits easily in a bag or cup holder and is impact resistant.
Another of Kinto's popular tumbler is seen on the post image above. It is their Day Off Tumblr which is also vacuum insulated and easy to carry around.
Discover more of their clean and fresh designs here!